May 25, 2010
Is there dust accumulation in your new home?
Are you finding your new home has fine dust accumulation on your furniture and floors even though your home has been duct cleaned?
Chances are the activity and traffic in the basement of your home (ie: kids playing, movement of furniture and boxes etc.) is creating dust to stir from the basement floor. New homes have freshly poured concrete and fine concrete dust will shed.
The solution of course would be to finish your basement by covering the floors or simply paint the basement floor. Painting your basement floor will act as a sealant and allow for simple cleaning.
Important note: Make sure you ask your building supply store what material is best to use on concrete floors. For example, using oil-based paint will cause problems in the future should you one day plan to finish your basement and lay tiles. Plan ahead as to what your future basement floor plans might be, for example, tiles, wood, laminate or sub-floor. Painting the basement floor is not difficult and it's an economical solution to eliminate fine concrete dust from floating throughout your home.
Air filters are ALWAYS a great add on to your HVAC system to help prevent dust. Indoor air is two to five times more polluted than outdoor air and this can be a big problem if you are an allergy sufferer. The filters supplied and installed in your new home as I am sure you are aware are the minimum requirement and are often disposable filters. Both disposable filters and reusable filters that are neglected and left for a long period of time can reduce air flow and may cause costly equipment breakdowns.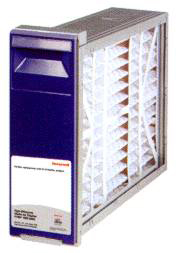 I recommend Media Air Cleaners, a filter commonly used by HVAC companies where cost and reliability are important. Only about 10 to 15 percent of home owners use Media Air Filters. The two biggest reasons are availability and simply awareness of the product.
Media Air Cleaners are among the top performers in the heating, ventilation and air conditioning (HVAC) industry and should be professionally installed. The big advantage of these filters over electrostatic air filters is they do not have to be rinsed clean every few months. Simply replace the filter once a season (or depending on dust accumulation).
It is important to keep in mind that when shopping for a new air filter, discount furnace filters (fiberglass panel) are not a real bargain. You may save on the cost of the filter, but you'll pay more for maintenance and operating costs in the end. It is best to shop for efficiency and quality.